Associate Membership
We are excited to to offer some Associate Membership specials for 2021. If you are joining as an Associate Family, the Initiation Fee has been reduced to $2,500 and can be paid in three (3) installments, and if you are joining as an Associate Single, the Initiation Fee has been reduced to $1,500 and can also be paid in three (3) installments. If you have been considering a membership, now is the time to do it!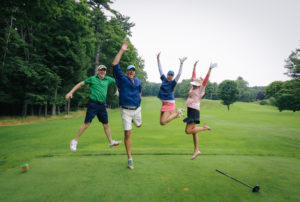 If you are between the ages of 25-39 and looking at Membership opportunities at Harbor Point, then the Associate Membership is for you. The Initiation Fee can be split into three installments over the course of 3 years. For a Single Associate, it is $500 installments. For Family Associates, the payments are split into $850, $825, and $825 over 3 years. The annual dues for 2020 are $1,000 for a Single Associate and $1,500 for Family Associate. Upon their 40th birthday, Associate Members pay the balance (if any) of their Initiation Fee and must renew as full members.
An Associate Membership offers the same privileges that a full member receives. These include, but are not limited to:
Your membership fee covers your green fees for the year as well as unlimited range balls and includes Social Membership at the Harbor Point Golf Clubhouse. You may enjoy the facility for luncheons 6 days a week during the summer season (excluding Sundays), as well as evening supper events and Cocktail Parties. You may also rent the Clubhouse for private parties.
Cart fees and guest green fees are not included. A guest may only play four times in one month during the members-only portion of the season. Houseguests enjoy unlimited play.
Club Storage and Lockers are on a first come-first serve basis (see the Professional staff for availability). Private and group lessons are available through PGA Professional, Shaun Bezilla.
Membership entitles you to an open account for all golf, pro shop and luncheon charges. Payment in full is expected by the end of the month that you receive your statement.
The course will be open to the public from April 23 through June 13. MEMBERS ONLY from June 14 through September 5.
Re-opening to the public September 6 to closing day Mid-October.
2021 Associate Single Application