Clubhouse & Dining
The Harbor Point dining room will open for the season on May 26, 2023.
Season Schedule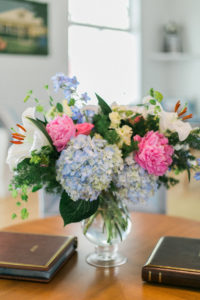 Our dining room is available for use only by Golf Club & Social Members, Harbor Point Residents, and their guests. We will open for the season on Friday, May 26, 2023 and remain open until Saturday, September 4, 2023 for regular lunch hours. After Labor Day, there will be a limited lunch service available until September 30, 2023.
Hours of Spring Operation: *May vary depending on time of year*
Monday: 11am-3pm
Tuesday: 11am-3pm
Wednesday: 11am-3pm
Thursday: 11am-3pm
Friday: 11am-3pm
Saturday: 11am-3pm
Sunday: 11am-3pm (deck service only)
Dinner & Clubhouse Events 2023
Throughout the summer, the Clubhouse offers great social and dinner events. Members may bring guests to these events, and reservations can be made by calling the Dining Room at (231) 526-2511.
Clubhouse Rentals
Harbor Point Golf Club Members and Harbor Point Residents have the ability to rent out the clubhouse facility for private events. The rental fee varies, so please contact the Clubhouse Manager for a rental application. The following is a list of general guidelines for rentals:
All rental reservations for the clubhouse must be made through the Clubhouse Manager or the Harbor Point office.
All persons reserving the clubhouse must complete and sign a reservation contract and return it to the Clubhouse Manager.
The committee strongly suggests that renters utilize our approved list of caterers for any private party held at the clubhouse. If another caterer is used, one of our employees must be hired by the renter to supervise the opening and closing of the clubhouse.
If a non-member wishes to rent the clubhouse, a member of the Harbor Point Golf Club must sponsor them.
Back to back scheduling of private parties must be cleared by our Clubhouse Manager. If dancing is to be a part of the private party entertainment, the rugs must be removed.
Any use of the clubhouse facilities by private individuals will not interfere with the normal operations of the clubhouse or the golf course.
Any moving or storage of club furniture will be at the expense of the individual renting the facilities and the management reserves the right to designate the moving company.